Each day I am trying to get better about my food choices and my relationship with food. The detox has helped me focus on fueling my body with whole foods. I am also trying to up my protein intake to 30% of my daily calorie intake to fuel my muscles during insanity training.
I thought it would be fun to share a snapshot of what a day's eats looks like for me currently. Please keep in mind that I am not a nutritionist. This is just for fun to share examples of my current eats with
What I Ate Wednesday.
Lets have a look at I ate yesterday!
Breakfast
Post workout green smoothie. This is one of my favorite ways to get in veggies in the morning. This green smoothie consisted of 3 handfuls of spinach, a frozen banana, 1 cup unsweetened almond milk, 1/2 scoop protein powder and 1 handful ice cubes. After blending away for 2 minutes in the blender the spinach taste is completely gone.
Lunch
Ahi Tuna Salad. After I took the picture I added a few tablespoons of homemade salsa.
Lunch Part-2
Apple and a handful of almonds with a 1/2 bottle of Kombucha
Afternoon Snack
A few handfuls of grapes while headed home from the store.
Dinner
Baked eggplant with homemade mariana sauce, grilled vegetables and a side salad.
Post-dinner Dessert
Not quite sure if this classifies as dessert. I was still a bit hungry after dinner so I reached for two protein cake balls and a handful more grapes for dessert. Recipe for the cake balls
here
.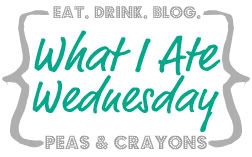 What do you think of What I Ate Wednesday (WIAW)? Would you like to see more?
What is your favorite go to breakfast?